As I get more information I will update this page:
Updated February 19, 2010 - Nagano email + Airdate information
Updated February 21, 2010 - with Blog information found plus names
Ube
found
Updated February 25, 2010 - with G4 entries.
Updated March 3, 2010 - possible not showing up.
Updated March 8, 2010 -
TBS page
added.
Updated March 16, 2010 -
Ube Photo
added.
Video Clip of Chiyo-Chan from Azumanga Daioh
Sasuke 25 is right around the corner! Again just like last year Lost in Ube and I will be scouring the Internet to find what we can. With Sasuke Maniac off the air.. we have to rely on blogs, websites like Sasuke Mania and Monster 9 and TBS page which is finally up!!

PLEASE NOTE: These names, even the confirmed one, can change due to unforeseeable circumstances - so the list is created as a guideline using past information and what has been posted in blogs in Japan. Also some guesses have been made due to the results of previous competitions. It is for fans wanting to know who

might

be participating.
Btw as I was making this list a message was sent to Nagano
via his website
sending support from all of the fans here in the USA and those who read this blog from around the world. He posted back a message back to the fans supporting him:
(Bablefish disaster provided by him.. LOL)

Thank you for support from U.S.A.
25 times of SASUKE collecting is in 20 days.
I change the support of all of you into power and do my best.
Thank you for support.
Makoto Nagano

アメリカから応援ありがとう。
20日に、25回SASUKE収録があります。
皆さんの応援を力に変えて、頑張ります。
応援ありがとう。
長野誠

(Synopsis of the message was thanks for the support from the United States. 2/20 is the taping day for Sasuke (in 2 days), transferring the support to him to do his best and thanks again for all the support - paraphrased of course ;)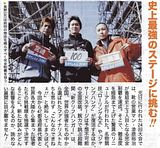 Photo provided by Ube on his blog
Confirmed participants/Expected
4/100

6/100

Japan Sasuke Trials - Sasuke Trials was held on Sunday, February 14, 2010. To this date there is no known number of survivors from that event.
6/100

9/100
14/100

Five members of Chojin Pro were there. (confirmed via blog entry)
Jump rope specialist Micchan バク宙5重跳びの体現者(みっちゃん)
Kung-fu champion Masaki カンフー世界チャンピオン(まさき)
Aerial performer (?) ATT 立体空中殺法のパイオニア(ATT)
Nunchaku Artist Hiroki ヌンチャクアーティスト(宏樹)
Fire Performer TAKUMI ファイヤーパフォーマー(TAKUMI)
**************************
Guesses based on result and past history
One would also think that they had some faces from
2010 Sportsman #1
and/or Kunoichi as well but I won't add anything from those lists unless it's stated somewhere for sure.
**************************