Announcement of participation of Makoto Nagano and Toshihiro Takeda at the Beach sports Miyazaki Prefecture Competition on July 26, 2008
On a personal level the past couple days have been a little stressful with my best friend's father going in the hospital again and a friend I met online having her own life threatening physical issues. So it was nice to get a small distraction when I logged in to Sasuke Fans this last night when I got home from the hospital. A heartfelt thanks to the well wishes for speedy recovery! Your support of my friends is very much appreciated!

Last week when promoting Sasuke Maniac, TBS promised "Hot men's thoughts and is…!?".. I felt giped that we didn't see hot men... until I saw a post in the SasukeFans website :) Ube was so kind as to link us something he found... Nagano and Takeda - Beach sports Miyazaki Prefecture Event... Uhmmm.. damn? Okay okay.. follow me on this.. We have never seen Nagano in shorts.. have we? The closest we've ever had were those goofy rolled up pants when he went to Kunoichi 7...
Nagano's glowing legs in Kunoichi 7 (September, 2007)
And of course we have already seen Toshihiro Takeda in shorts MANY times... including various training videos of him between Sasukes...
Screenshot from
Sasuke 19
TBS Video showing Toshihiro Takeda training at Mr. Sasuke's house
So imagine my surprise and delight that I started reading what this whole thing was about... Okay.. first off.. it's a BEACH competition... BEACH as in... you don't wear jeans.. you don't wear those goofy black pants because it's going to be friggin hot.. (Weather in Miyazaki, Japan for Saturday, July 26, 2008 is going to be 93 degrees (That's Fahrenheit folks)..) Okay okay.. I"ll copy and paste it.. 93° F 75° F (High and low in Fahrenheit) and 34° C 24° C (High and Low in Celsius).. so yes it's going to be HOT.. and in the beach.. I swear he better not wear those goofy track pants.. I swear...
Okay.. first it's a pier off some place called Sunbeach. Ube was so kind as to find links and locations and stuff like that. The event is a part of Phoenix Seagaia Resort (gorgeous looking resort btw.. nice website) presents "Pirates' Adventure Beach". Nagano did Viking.. with the norse gods.. why not go after the Pirates? AAAAAAAAARGH.. Okay.. another link to this Pirate's Adventure Beach page... wtf is up with the technicolor burgers??
Anyway.. let's see what Toshihiro and Makoto will be doing.. are they competing? I sure as heck HOPE so... I'm using bablefish translation folks so bear with me:
July 26, 2008 (Saturday) Last appointment 8:30 to 9:30 / 10:00 to start / stop 17:00 (planned)
250 (200 men 50 women) ※ capacity as soon as it closed at all times.
(PRIZES) Male-female part of each sector: Masaru Masaru / 50,000 (Yen or 463.61 US)

Budweiser

sports cycle 3 cases (350 ml24 cans × 3) SHIGAIYA ※ In addition to many other great prizes from co-sponsoring

(THEY GET BEER!!!!! LMFAO...)



Runner-up / 30,000 (Yen or 278.16 US) Budweiser SHIGAIYA ※ In addition to many other prizes from co-sponsoring



Third place / 10,000 (Yen or 92.72 US) SHIGAIYA Budweiser ※ In addition to many other prizes from co-sponsoring
Okay okay.. hold it right there.. You enter a Japanese Beach competition ... and win American Buttwiper BEER!!??!!?? WTF??????? I'm sorry but that's the funniest thing I've ever heard.. wow... Okay I got it.. Budweiser Beer is a sponsor... ahahahhahaha... ehem.. :)
Okay.. the events... (again.. incoming bablefish disaster..)
Six of the barrier system, stopping in tournament competition.
(1) BEACH FLAGS (beach flags) - tell from the state of sleep, depression, 15 m at a speed contest scramble for the flag (WTF is up with this translation?) Okay.. Ube again was kind enough to provide information on what these things look like. Apparently Monster 9's show Sportsman #1 has a couple of these events already part of their show.
Kane Kosugi
going up against a very blond
Naoki Iketani
in 2000's Sportsman #1
As seen from this YouTube Video it's a very simple thing. A bunch of people lie down on one end of this pool of fluff.. no one sees where they place a red flag. (see above how Iketani and Kosugi wait for the sound of the gun to go) When the gun is shot, they all get up and scramble to find the flag in the fluff. Whoever gets the flag wins.
An example of finding the flag in the fluff in 1999's Sportsman #1 Beach Flags competition
(2) POWER FORCE - Each other on a rubber tube to pull one another and from one flag to get the power and speed contest (Tug of War folks). Again Ube corrected me on this thing. It's not quite your tug of war contest I grew up with. As seen on the videos demonstrated in 2000 (both March, 2000 and October, 2000) in Sporstman #1 (Kane Kosugi vs. Shoei) - 2 people put on jump suits tied to each other with a bungee cord..
Kane Kosugi (left) vs. Shoei (right) during the 2000 Sportsman #1 Power Force competition (March, 2000)
When the gun goes off each run away from each other to reach a buzzer at the end of the runway. Only the power of the competitor can determine who will arrive first.
Kane Kosugi (foreground right) reaching buzzer against Shoei (background left) (October, 2000)
Again, Kane Kosugi Pwning Shoei by reaching the buzzer first (March, 2000)
(3) ARM WRESTLING - definitely self explanatory
(4) SEA KAYAK - Paddle a kayak, rowing, maritime power and balances to compete in sports wrap.
Semi Final - BAMBOO RUNNER - Float on the sea width of 90 cm in length 8 m bamboo raft of six come back in the running speed contest.
Final - BEACH JUNNGLEGYM - TBS television is known for his "SASUKE" training machine is the venue! so far is only 10 fit men and women.
... now to see if they actually put this on Sasuke Maniac..............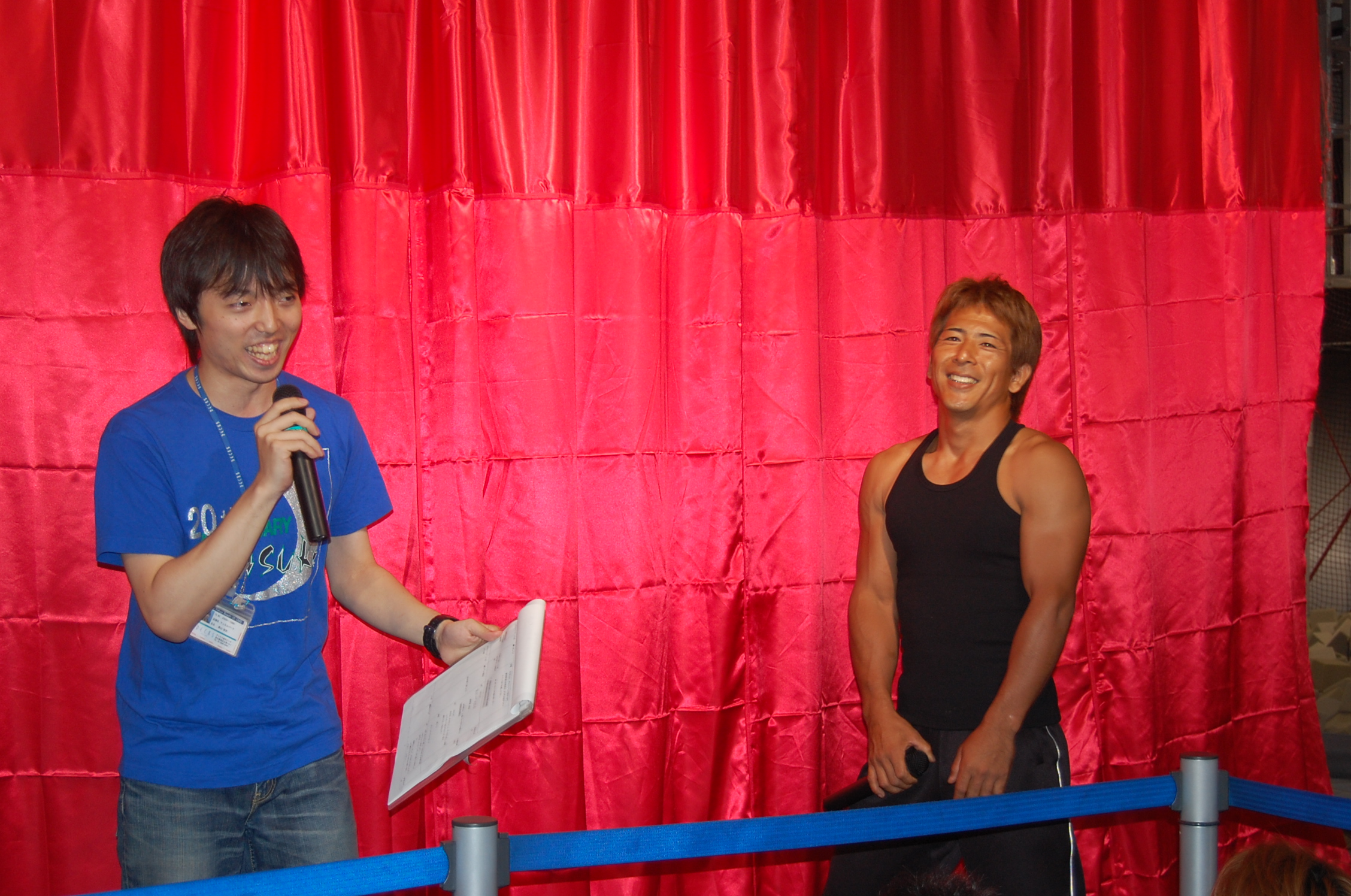 Makoto Nagano (right) awaiting the unveiling of the new Sasuke Park on July 19, 2008 ©Muscle Park 2008

Speaking of things I want to see in Sasuke Maniac... As I mentioned in a
previous blog
, Makoto Nagano went to the
grand opening of Muscle Park's new Sasuke Park
. I'm ecstatic that they did put pictures up in high quality! Too bad he didn't come in jeans this time.. /sigh Let's hope they put something in Sasuke Maniac about this.... oh please...